Exploring the World of WhatsApp Extensions: What You Need to Know
Takes you on a journey into the innovative realm of WhatsApp enhancements. This concise guide equips you with essential insights, unraveling the diverse possibilities and functionalities that WhatsApp Extensions bring to your messaging experience. Whether you're a beginner or seasoned user, discover customization techniques, expert functionalities, and practical tips. Dive into the world of WhatsApp Extensions, where every feature serves to elevate and optimize your messaging adventure.
What is WhatsApp Web?
WhatsApp Web is an extension feature that enables users to access WhatsApp on their computers. Users pair their devices by scanning a QR code on the computer using the WhatsApp app on their phones. Once connected, users can view and respond to messages from their phones on the computer, including participating in group chats. Messages synchronize in real-time between both devices, ensuring consistency. This feature offers enhanced convenience, especially for those who prefer a larger keyboard for typing. It's important to maintain an active internet connection on the phone for WhatsApp Web to function and to log out promptly, especially on shared computers, to safeguard privacy.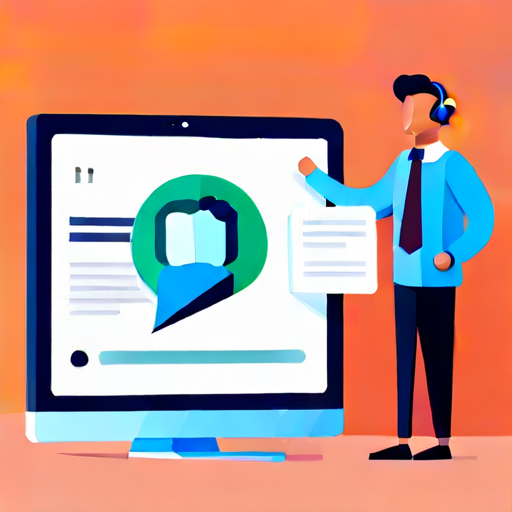 Why You Should Use WhatsApp Professionally?
WhatsApp is a crucial professional communication tool, offering instant global connectivity and efficient collaboration. With real-time messaging, users effortlessly share documents and multimedia, fostering effective teamwork. Group chats and broadcast lists enhance internal and external communication. WhatsApp's end-to-end encryption ensures secure professional conversations. Its mobile accessibility and integration capabilities streamline communication workflows, boosting productivity. Additionally, WhatsApp Business provides a cost-effective alternative to traditional messaging services, making it an indispensable asset for businesses aiming for seamless, secure, and economical communication.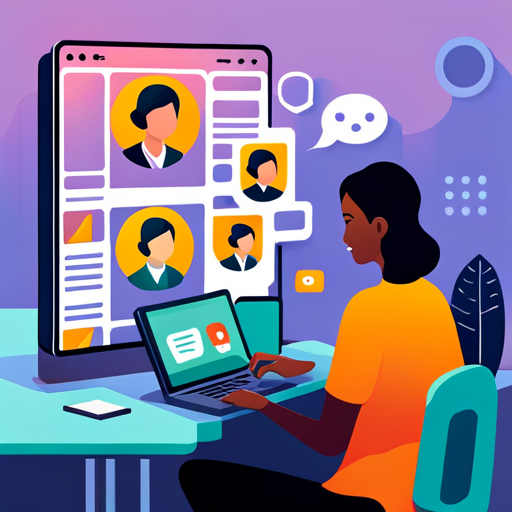 Powerful WhatsApp Extensions Recommendations
The WA Bulk Message Sende plugin is a powerful WhatsApp messaging tool that offers a range of convenient features. With one-click bulk messaging, users can easily send messages to multiple contacts, enhancing communication efficiency. The plugin also supports contact information export, facilitating contact list management. The attachment sending feature allows quick sharing of documents, images, and other multimedia files. Button message sending makes interaction with contacts more intuitive and straightforward. Through the message status statistics, users can track the delivery status, ensuring accurate message delivery. WA Bulk Message Sender is a comprehensive and user-friendly tool, aiding in efficient WhatsApp bulk messaging, contact management, and message status tracking.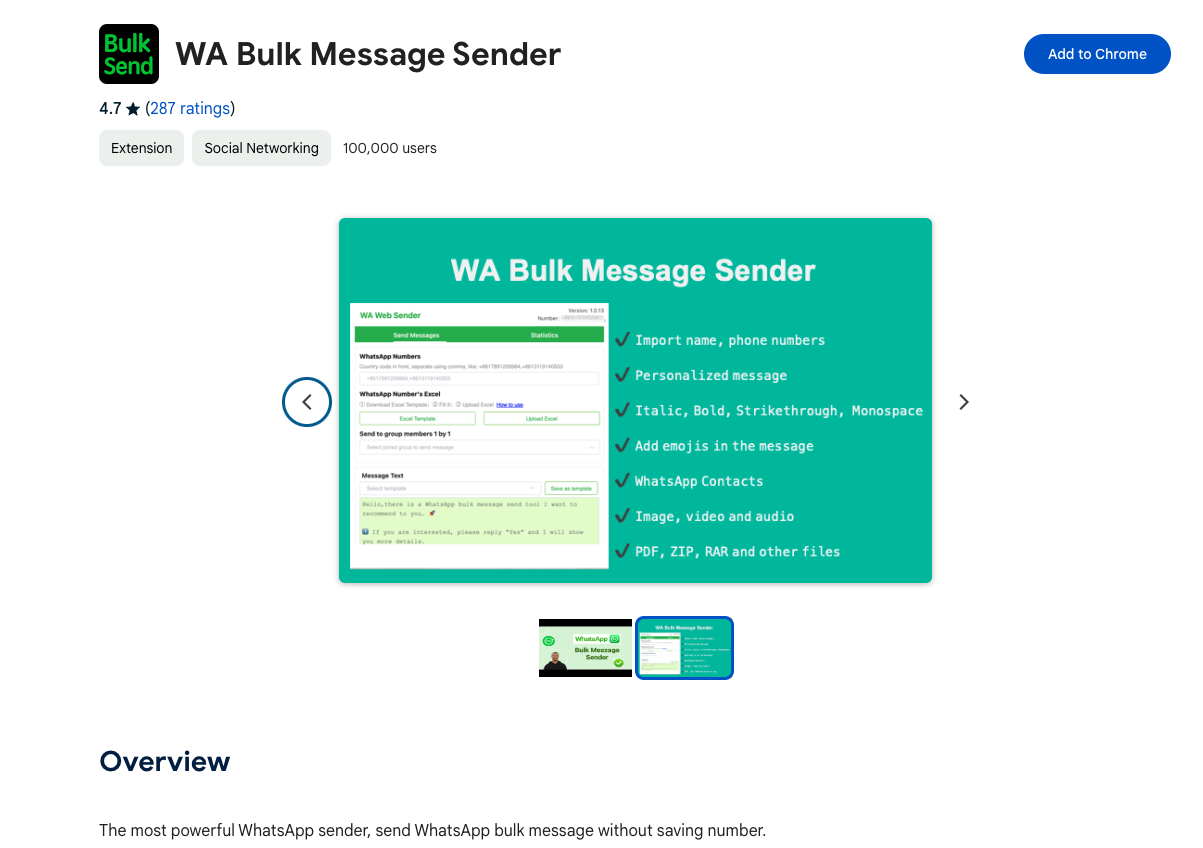 "Privacy Extension Blur Messages for WhatsApp" is a privacy-focused plugin designed to enhance user confidentiality on the messaging platform. This tool strategically blurs sensitive information, including user names, chat content, avatars, and notes, ensuring an extra layer of protection for users concerned about privacy. By incorporating this plugin into WhatsApp, individuals can communicate confidently, knowing that their personal details are obscured from prying eyes. The blurred messages feature extends to various facets of communication, offering comprehensive privacy coverage. This plugin's simplicity is its strength, providing an effective solution without compromising user experience. With "Privacy Extension Blur Messages for WhatsApp," users can enjoy the convenience of messaging while maintaining control over their personal information, fostering a more secure and private online communication environment.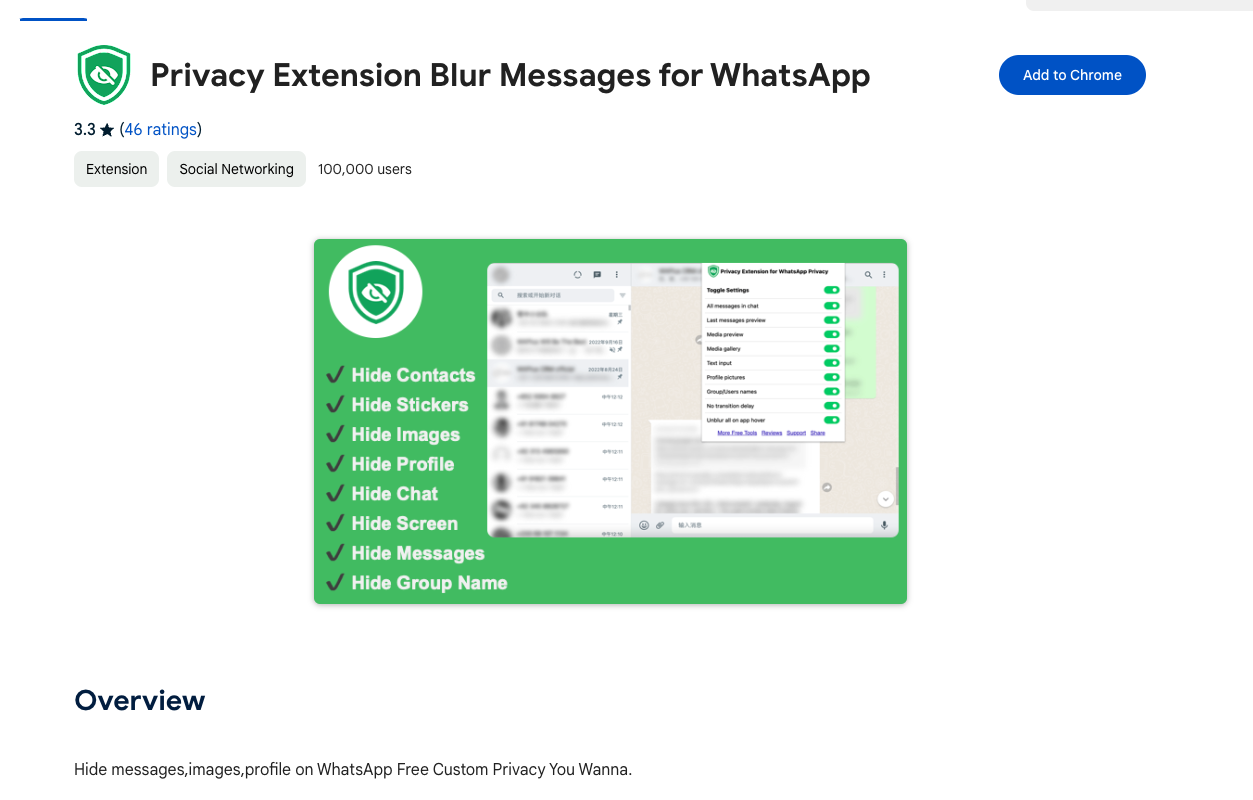 "WA - Download Group Phone Numbers" is a convenient Chrome extension that allows you to download and save contacts from your WhatsApp Web interface. With this extension, you can easily extract contact information, such as names and phone numbers, and store them for future reference or use.
The Contact Download extension simplifies the process of gathering contact details from your WhatsApp conversations. Instead of manually copying each contact's information, you can use this extension to automate the retrieval and downloading of contact details in a quick and efficient manner.
Once installed, Contact Download adds a user-friendly interface to your WhatsApp Web. It provides options to select specific conversations or groups from which you want to download whatsapp contacts. With just a few clicks, you can extract the contact details and save them in a convenient file format, such as CSV or Excel, for easy access and management.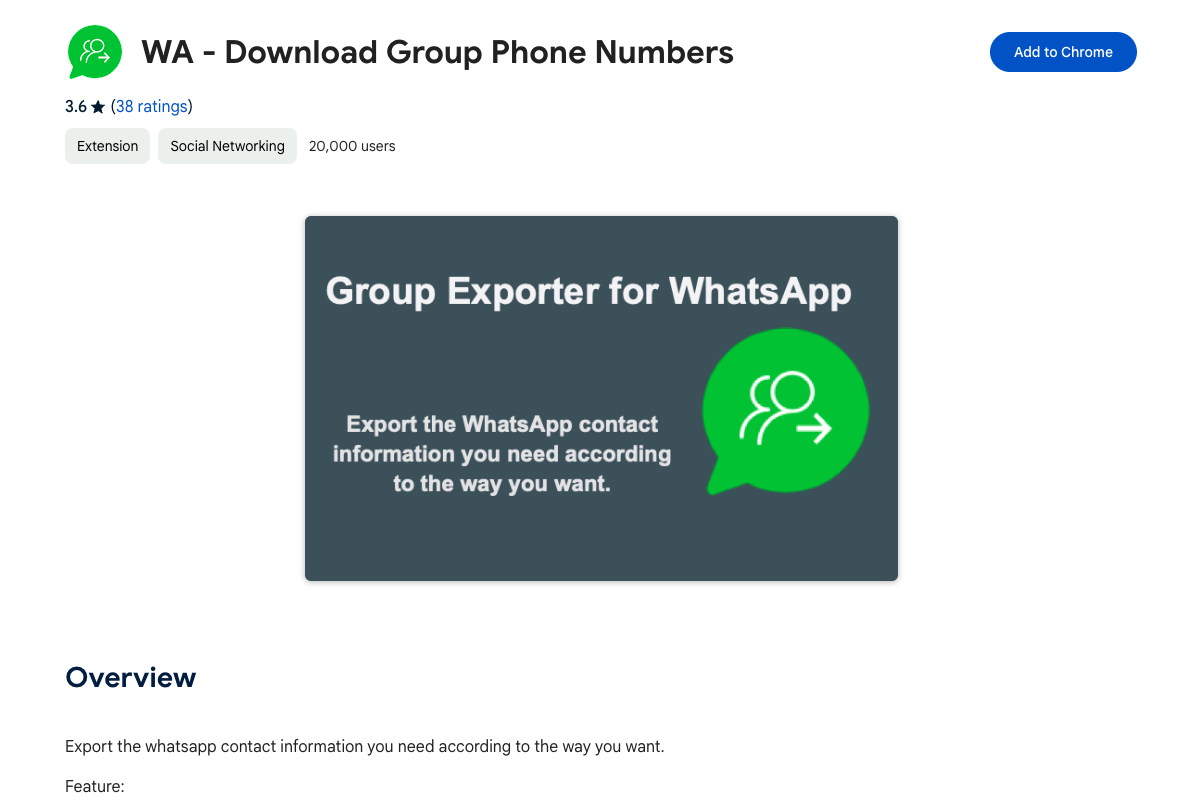 FAQ
Frequently Asked Questions
---
Got a question? We've got answers. If you have some other questions, see our support center.
How do I install a WhatsApp Web Chrome extension?
To install a WhatsApp Web Chrome extension, the first step is to open the Chrome Web Store. Once you're there, search for the specific WhatsApp Web extension you're interested in. When you've found the right one, simply click on the extension's name or icon to open its page. On the extension's page, you'll see an "Add to Chrome" button. Clicking this initiates the installation process. A pop-up confirmation window will appear, asking for your confirmation to add the extension to Chrome. To proceed, click the "Add extension" button within the pop-up. Google Chrome will then take care of downloading and installing the extension for you. Once the installation is complete, the extension will be ready to use, and you can access its features as needed.
Can I use multiple WhatsApp Web Chrome extensions at the same time?
Yes, you can use multiple WhatsApp Web Chrome extensions simultaneously. However, it's important to note that some extensions may have overlapping features, so it's advisable to carefully choose the extensions that complement each other and fulfill your specific needs.
Are WhatsApp Web Chrome extensions compatible with all versions of WhatsApp?
WhatsApp Web Chrome extensions are generally compatible with the latest versions of WhatsApp. However, it's important to ensure that your WhatsApp application and the extension you want to install are up to date to avoid any compatibility issues.

Will using extensions affect my privacy?
Most WhatsApp Web Chrome extensions available in the Chrome Web Store are safe to use. However, it's crucial to be cautious and download extensions from reputable sources to avoid any potential security risks. Read user reviews and ratings before installing an extension to ensure its credibility.