WAPI Sender:How to Send WhatsApp Bulk Message?
WhatsApp bulk message has revolutionized the way we communicate in today's digital age. With the power to send messages to multiple contacts at once, it has transformed the landscape of modern communication. Whether you are a business looking to connect with your customers, or an individual looking to stay in touch with friends and family, WhatsApp bulk message provides a fast, efficient, and cost-effective way to reach your audience. As the popularity of this messaging platform continues to soar, it has become clear that WAPI Sender is a valuable tool for anyone looking to enhance their communication capabilities.
Ⅰ Introduction
With 1.5 billion users worldwide, WhatsApp has emerged as a key communication tool for individuals, businesses, and organizations alike.
WhatsApp bulk message is a method of sending messages to a large number of contacts simultaneously on the WhatsApp platform. It allows users to send multiple messages at once, greatly enhancing the efficiency of commercial and individual communication. This method simplifies and automates the message delivery process, allowing you to send specific messages to multiple contacts in a short amount of time, while also making it easy for recipients to reply and engage. WhatsApp bulk message can be used not only for commercial purposes, but also for wider social and communication purposes, such as sending out New Year greetings, birthday wishes, and more. This innovative method is based on the communication platform of WhatsApp, effectively meeting the demand for efficient communication and mass messaging in today's world.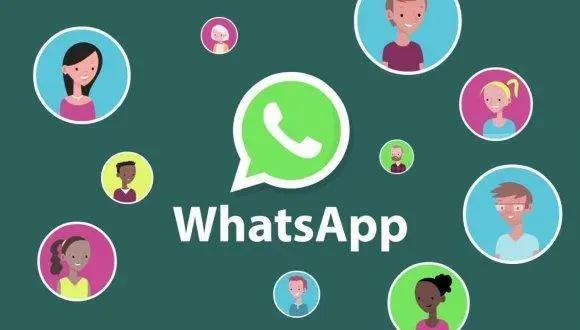 2. WhatsApp VS Traditional SMS and Email Advertising
WhatsApp's high open rates stem from its messaging format that resembles private communication from a friend, which increases user willingness to open and read messages.
Its concise and visually attractive messages, including images, videos, and GIFs, enhance user interest and engagement, resulting in higher brand awareness.
WhatsApp's real-time and direct communication with customers provides a convenient and efficient way to establish and sustain customer relations.
With its low cost compared to traditional communication methods, WhatsApp offers an affordable way for businesses to reach customers and promote their brand.
3. How to Use WhatsApp Bulk Message to Increase Your Revenue?
For example, you are a product salesperson for a company using WhatsApp bulk message, you need to recommend your company's products in bulk to reach more potential customers and screen those who are interested for further communication.
Here are the steps to follow:
Collect WhatsApp numbers of potential customers.
Develop a strong product introduction.
Select a dependable WhatsApp bulk message sender.

For instance, I recommend the tool I am currently using.
Install the Sender via the link: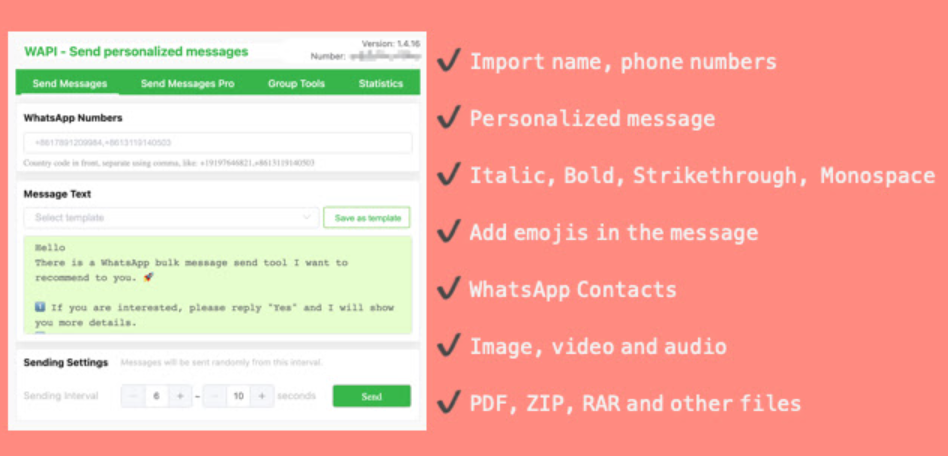 Upload Contacts: Upload the list of contacts to whom you want to send messages.

You can either enter the WhatsApp account directly or upload Excel.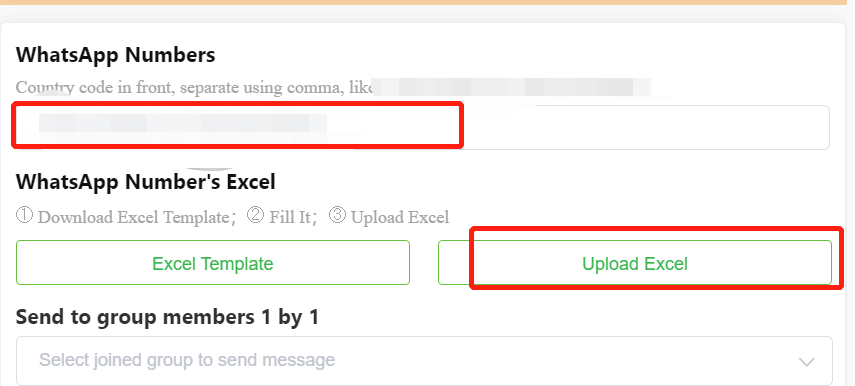 Compose Message: Compose your message and set personalized content (important!!!) .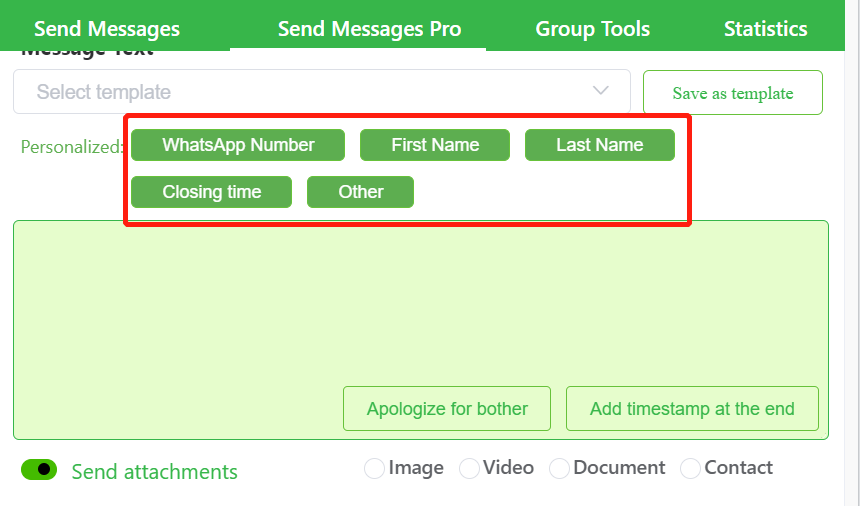 Schedule Message: Set time intervals for sending each message (to simulate human behavior).

Click Send: Click the send button. Done!
By taking the above steps, you can send your product information to customers and efficiently follow up with those who have responded. Personalized messaging through WhatsApp can improve customer response rates and lead to increased revenue.
4. Other Possible Uses of WhatsApp Bulk Message
Product Promotion: Enterprises can keep customers informed about new products, promote sales, and enhance brand influence through WhatsApp bulk message.
Marketing Promotion: Enterprises can increase customer participation, identify customer needs, and generate brand exposure through sharing event and promotion information via WhatsApp bulk message.
Customer Retention: Using WhatsApp bulk message enables enterprises to communicate important information to customers, fostering strong relationships and customer loyalty.
Service Provision: Using WhatsApp for customer support can increase post-sales satisfaction, resolving disputes efficiently for loyalty and reputation growth.
Subscription Renewal: Personalized messages through WhatsApp can gently remind former customers to renew their subscriptions.
In all, using WhatsApp bulk message can comprehensively engage customers, provide better service, and boost brand awareness and sales performance.
5. Is WhatsApp Bulk Message Legal and Compliant?
While WAPI Sender is generally safe, it is important to follow certain guidelines to comply with the platform's strict policies. Any violations may lead to account suspension or legal consequences. To avoid having your account flagged or suspended while sending bulk messages on WhatsApp, consider these tips:
Limit message quantity. WhatsApp sets limits on the number of messages that can be sent within specific time periods. To prevent your account from being marked or suspended, make sure to adhere to these limitations (generally, users registered forless than a week have a limit of 100 messages per day, while those registered for more than a week have a limit of 1000 messages per day).
Use authorized bulk message services. Send your messages through trusted, authorized WhatsApp bulk message service providers. Avoid unreliable or unknown suppliers, as their service quality and security standards may be subpar.
Avoid sending spam. Sending spam, irrelevant messages, or unauthorized promotions may result in users reporting your account and ultimately suspension.
Personalize messages to avoid sending large volumes of identical messages. Consider setting unique messages and, if necessary, explicitly stating the relevant timeframe. By following these guidelines, you can minimize your WhatsApp account's risk of suspension while sending large volumes of messages.
6. Any Recommendations for WhatsApp Bulk Message Sender?
When choosing a reliable WhatsApp bulk message sender, it is important to consider the following factors:
Reliability and Stability: A good WhatsApp bulk message sender should provide stable and reliable service.
Data Security: As WhatsApp bulk message sender require access to users' contacts, data security is an important factor to consider when choosing a tool. Choose tools with good privacy policies that require user authorization to access contact information.
User Experience: Good WhatsApp bulk message sender should have a good user experience that is easy to use and operate. They should also be fast and efficient in completing tasks.
Support for Various File Formats: Modern WhatsApp bulk message sender support sending various types of media files (such as videos, audio, images, text, etc.). Therefore, you should choose a WhatsApp bulk message sender that supports multiple file formats to meet your needs.
Customer Support: When using a WhatsApp bulk message sender, you may encounter some problems. Therefore, choosing a tool that provides good customer support is crucial. This may include online help, email support, social media support, etc.
The sender I am using is: WAPI-Send Personalized Message.
The first notable feature that stands out to me is its ability to streamline the process of uploading contact information via Excel sheets. Notably, the tool can identify Excel sheet titles, which allows for greater customization and personalization when sending messages to users.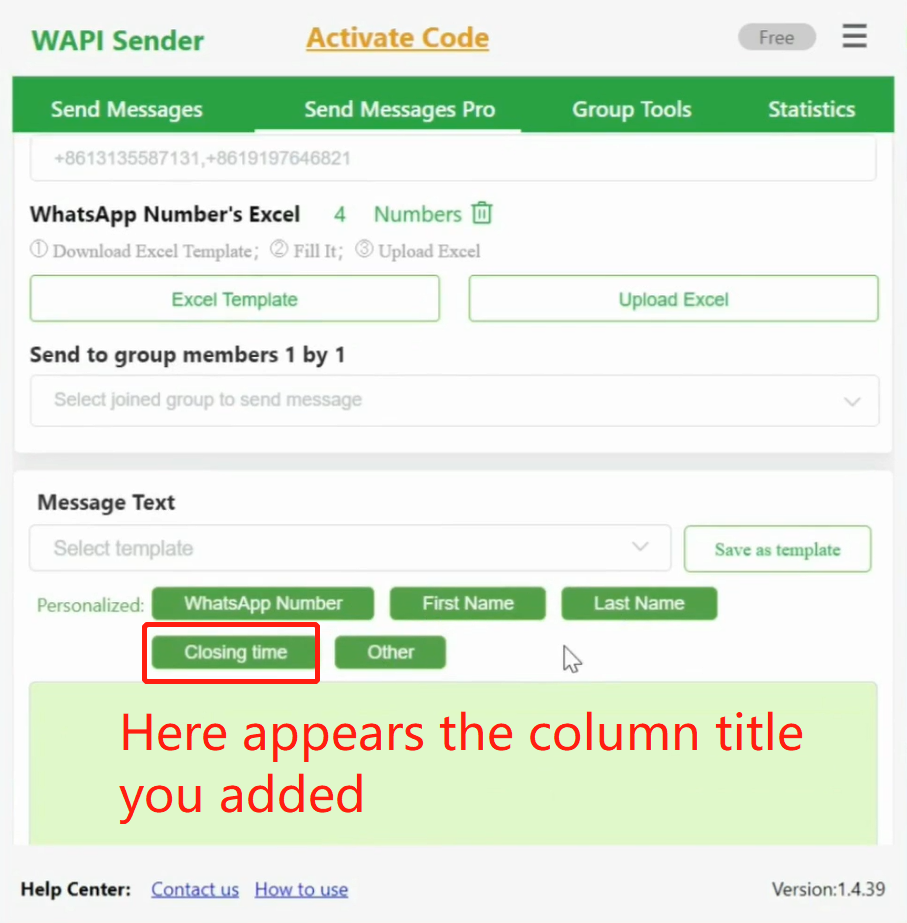 Send messages to group members through joined group.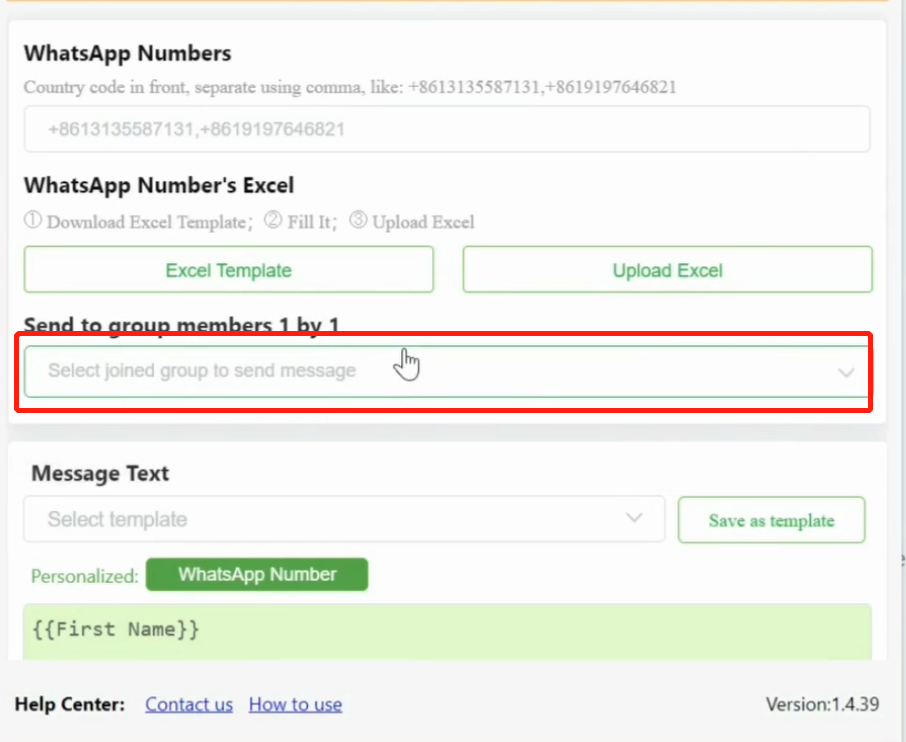 Export member information. The latter allows for the acquisition of more customer numbers which can subsequently be used to expand the customer group.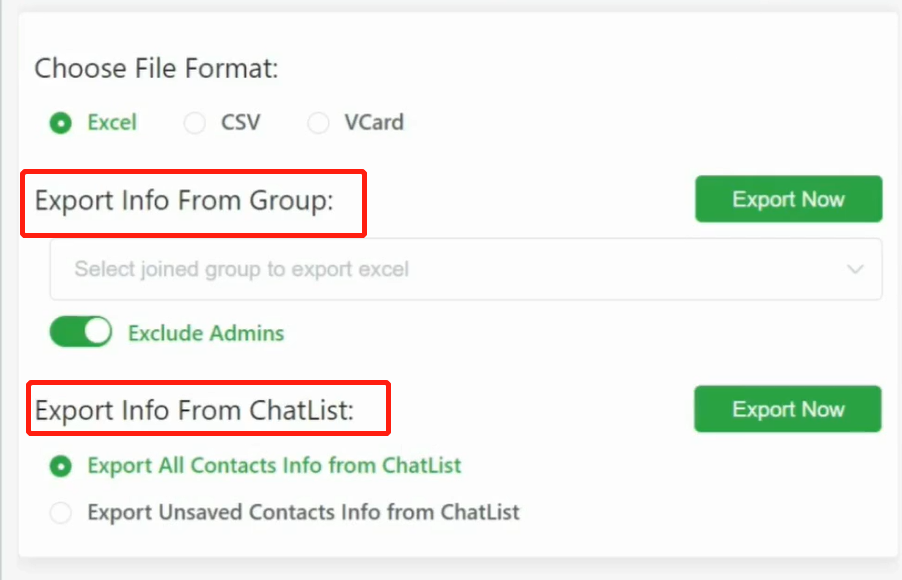 Ⅱ Using WhatsApp Bulk Message Sender to Increase Your Work Efficiency
WAPI Sender is a powerful tool for businesses, organizations and individuals to send WhatsApp bulk messages to reach their target audience. It is an efficient and personalized way of communication that can increase engagement and productivity. However, it is essential to comply with WhatsApp's terms and rules to ensure smooth and effective work. So let's try it out and take your WhatsApp marketing to new heights!